Posts Tagged 'Searching for a host?'
By Mohnish On January 5, 2009
7 Comments
I am proud to announce a new website in my network! 😀 Today, I have 4 websites running including Sensonize.com 😉 Before I introduce you guys to my new website, I would talk a little bit about web hosting and how to choose a web host.
There are several types of web hosts
1) Shared
2) Reseller
3) VPS
4) Dedicated
5) Etc Etc..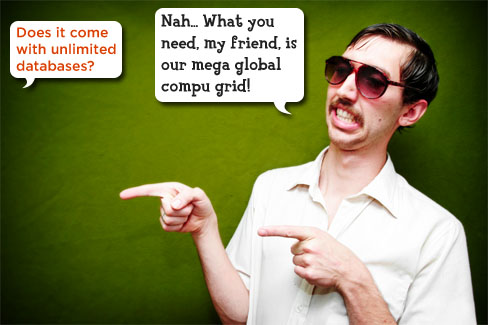 I know there are many more, but today I would like to talk only about the above 4… which are known as POPULAR HOSTING PRODUCTS or HOT HOSTING PRODUCTS. This is the 21st century and we have everything unlimited and unmetered here. But do you really know the catch behind 'unmetered' and 'unlimited'? My 1st question to you all is, have you ever seen anything UNLIMITED? There is NOTHING unlimited in this world except love and friendship. So how do these 'big hosting guys' offer 'Unmetered' Space and Bandwidth? The catch is the CPU/Resource Limit. You can use as much as you like for legal purpose but as soon as you cross the 20% CPU/RAM Limit your suspended automatically. Let me put some light on the 20% CPU/RAM limit. Hosts that provide Shared Hosting usually have a limit of 20% on the RAM/CPU so that you don't over load the server. Normally Webhosts have the latest servers with 3 Ghz and 8 GB RAM. So 20% of 3Ghz = 0.6 Ghz and 20% of 8 GB RAM = 1.6 GB. This is just an example, some hosts have smaller servers. They also have a process limit. Usually the process limit is set to 20 in popular hosts like Hostgator, LunarPages etc. So this is the 'unmetered' catch. Shared Hosting is the best for 1-5k hits/day. Now lets step forward to Resellers.



Resellers are pathetic! They have a CPU limit of 12% even though they offer 'unmetered' space and bandwidth. So why do people go for resellers? Well.. Resellers are cheap and you can buy them for your friends and your other websites, or just offer them in some contest/scheme(paid to host). So each of your website gets 12% limit where as in shared hosting all your websites have 20% Limit. A Reseller is good for 2-10k hits/day. Lets move on to VPS…
VPS are 'Hot cakes' if they are 'Unmetered' and cheap! People really don't care about the specs if they are unmetered.. Thats all they see! But the catch in a VPS is that it takes about 128 MB RAM for your operating system and + more RAM for your panel. So if your using Cpanel 11 on your 512 MB VPS, it is likely to get hanged. A VPS is more preferred than a Dedicated server since it comes with support and free control panel. A VPS might look cheaper but it is usually over sold. Just be careful with the burst ram catch. A host providing 256 MB RAM and 1024 MB Burst RAM is a hardcore over seller. So just beware when your buying a VPS, if you don't know how to handle it, its a waste. A VPS is like a Semi Dedicated Server and great for 10-20k hits/day. Lets move on to Dedicated Servers..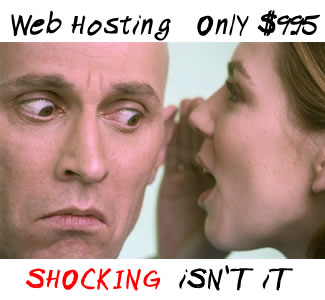 Dedicated servers are used by small to big sites. Even if people don't know what a dedicated server is or how to manage it, they still go ahead and buy it! So what are they basically? Dedicated Servers are located in a datacenter and are big daddys of your small shared hosting accounts. A dedicated server is not as popular as shared hosting since its expensive. Dedicated Servers are almost 10 times the price of your shared hosting usually but sometimes more depending on the specs. A dedicated server is the best for huge websites or websites with a good traffic. Just be careful while buying a Dedicated Server since most of them are unmanaged.A Dedicated Server is  great for 10-200k hits/day.
I guess I got really involved into this article and I forgot to introduce you guys to my new website. This website is the best example anyone could give for affiliate marketing 😉 My new website deals with Web Hosting and gives visitors a brief introduction to web hosts + their schemes and if they are worth the price or not. It also allows users to post their good/bad experiences with a web host. You can visit my website at WebHostingOffers.org. Do visit it if your searching for a webhost or have a postive/negative review for your current host. Do leave your comments and suggestions.. I guess I covered up most of the points on hosting 🙂 So next time before asking your host why were you suspended, ask yourself the same question, you will get the answer befor they answer your ticket 😛 !